Father's Club 2022-2023 Year-in-Review
By Dan Holdhusen, Grandfather of two graduates and two currently enrolled in Blue Valley High School, Mike Rothwell, Board Member/Director of Community Partners for Father's Club and Mike Davisson, Regional Director & Board Member for Father's Club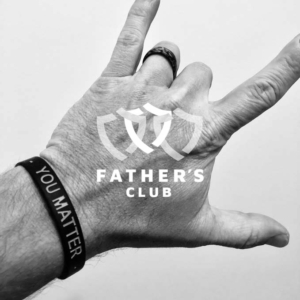 In our quest to live up to our mission, this past 2022-2023 school year was, by far, the Father's Club most successful yet as we found simple and profound ways to be intentional in the lives of our KIDS, OTHER DADS and within our COMMUNITIES.
Growth and Expansion
Father's Club has experienced dramatic growth this past year by advancing and promoting one of the most foolproof, tried and true, and historically significant principles of success: getting dads involved in the lives and activities of their kids, with one another, and in the communities they call home. In the school year 2022-23 Father's Club expanded its footprint and level of activity to new arenas, while at the same time, successfully carrying out its mission with simplicity and effectiveness.
Father's Club footprint expanded this past year, and now includes four Regions consisting of schools in both Kansas and Missouri in the Kansas City metro area. The four Regions spread across the geographic areas of Olathe, Blue Valley, Shawnee Mission and Lee Summit now include a total of 28 Chapters. Included in the Chapter are more than 1,800 registered dads and countless others who are continually seeing the benefits that come with dads' proactive involvement in the lives and livelihood of their children. These hundreds of fathers have jumped in – feet- and hearts-first – to get involved and invested in Father's Club activities and events throughout the metro area.
Sponsored Events and Focused Activities
In addition to the recent launch of our 28th Chapter, the expansion of long-standing Chapters has grown to include new and innovative events, as well as the continuation of many familiar favorites. Each Chapter has been challenged to be creative and innovative by using a combination of ideas and events in which dads can engage with their Childrens' schools to show each one of them "how much each one of them matters – right here, right now!" Some of these events have included:
Dads showing up early to greet kids starting their school day with a fist bump, some breakfast snacks, a huge smile, and tons of encouragement to show them that dads care and kids are important.
Dads showing up on weekends to help trim the trees, bushes, and shrubs and contribute, in many small ways, by showing pride in the beautification and appearance of our school grounds and landscaping.
A focus on mental health awareness and education that affects the lives of so many kids and their families in an authentic way in today's culture. Concrete ways in which this focus was addressed in the past year included a Mental Health First Aid (MHFA) Training event in March 2023 where forty dads received training and resources from experts on mental health awareness issues, including teen suicide.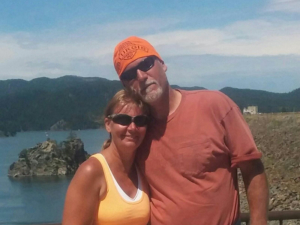 The cost of this MHFA training event was paid for by the dads who attended, as well as from proceeds raised from "Chuck's Last Ride", which was accomplished by Chuck Smith, a cancer victim, whose heart was captured by teenage mental health challenges and teen suicide. Sadly, Chuck passed away shortly after completing a 3,000-mile ride on his motorcycle through western United States. He inspired thousands with his courage and left a tremendous legacy that the Father's Club and those touched by its mission still benefit from today.
The goal of Father's Club Mental Health First Aid Training has been to train 1,000 dads to have a deep understanding of the issues surrounding the mental health crisis kids and families are facing – including teen suicide – and to train others and make them aware of symptoms and how to proactively address them.
With assistance of a substantial financial gift from a local family foundation, we have purchased training resources to further dads in a "train the trainers" approach to facilitate reaching our goal of reaching and educating 1,000 fathers. To date, 130 dads are certified in Mental Health First Aid.
Father's Club also underwrote four performances of an original drama entitled "The Brightest It's Ever Been," which was written by Kayli Slayden and produced by Will Gurley. The 'Pop Up' performances dramatized the life of a teenager living with anxiety, stress and the pressure adolescents endure.  The play was performed in front of four packed-house audiences in May 2023.
Harvesting Friends and Funds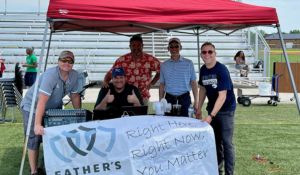 Raising funds and financial support is not our purpose, but fund-raising activities are important to grow and sustain the mission of Father's Club – both at the individual Chapter and the organizational levels.
Chapters came up with very innovative ways to raise not only financial support during the 2022-23 school year; but also ways to promote involvement by dads in the lives of their kids in their schools. Events are not only a fun way to raise important funds to fuel the mission, but also bring dads and family members together during times of crisis and to cheer on the school band, athletic, choir, cheer events, and an assortment of other groups and activities.
Events are too numerous to mention, but schools and events that stood out this past year include:
Olathe Northwest – organized and participated in many school activities including a school tailgate, staff appreciation breakfast, a candy and 'high five' preschool distribution and greeting, and forged a potential fundraising partnership with other organizations, including giveback2schools, which support raising of funds for extracurricular activities that are normally outside of school budgets.
Blue Valley West – dads organized and led the concession sales at school events and raised considerable dollars, much of which was redistributed in the form of scholarships for needy and deserving students.
Olathe East – Hosted a breakfast handout before school finals, as well as a football tailgate that recognized the school's band, drumline, and cheerleaders. In addition, dads distributed coffee and cookies to recognize and honor teachers and provided two $500 Perseverance Award Scholarships to two worthy students. One notable Father's Club event was the organization of several rallies to support the students and faculty after sad events, including a school shooting that occurred in March 2022.
Lee Summit District (including Lee Summit, Lee Summit West, and Lee Summit North) – Were the recipients of a Certificate of Recognition at the Board of Education's March 16, 2023, meeting.
Blue Valley High School – Among numerous events held throughout the year, the Father's Club organizes several dad and student events including a Career Fair, parent career class presentations, and also have a meeting once a month with the principal to receive feedback and suggestions for dad-involvement in the school and to provide him with encouragement.
The list goes on and on… we've covered many of these events in our blog.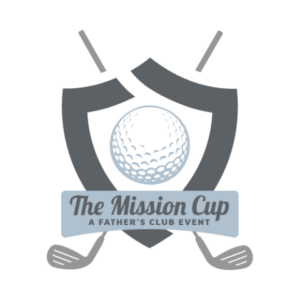 In addition to numerous Chapter fundraising activities throughout the year, the Father's Club primary fundraiser is the annual Mission Cup Golf Tournament and Auction Party which were held on September 9-10, 2022. The Mission Cup was the most successful ever, hosting two hundred golfers and raising over $50,000 to support the Father's Club mission. We are expecting even bigger things during the 2023 Mission Cup.  We hope you will join us.
Wanting to get dad involved early-on, several Chapters launched in middle schools this past year in addition to those that have been established at high schools in the four metro area Regions. The latest launch occurred toward the end of the 2022-23 school year at Kansas City Christian, which is part of the Shawnee Mission Region.
Awards and Honors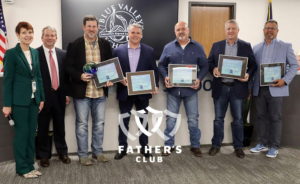 The Father's Club received some special honors this past year. In addition to the Certificate of Recognition received from the Lee Summit Board of Education mentioned above, the Blue Valley Independent School District Board recognized the Father's Club for its partnership and outstanding work in the Blue Valley District by honoring us with the acclaimed "Friend of Education" Certificate of Recognition. In accepting the award, Brad Holdhusen, speaking on behalf of the entire Father's Club organization across the metro area and, in particular, the group representing the Blue Valley school district said: "We cannot be prouder and more pleased at being recognized for this prestigious award from the Blue Valley district. Father's Club is not seeking achievement awards. But this recognition is accepted with a deep sense of pride and humility on behalf of the hundreds of dads who put the welfare and education of our kids first."
Following receipt of the "Friends of Education" recognition, the Blue Valley School District honored us by producing and publishing on social media a video to recognize the Father's Club, which included testimonies of principals at Blue Valley West and Blue Valley Southwest.
During the school year, the Father's Club recognized Scott Bacon, former principal at Blue Valley High School, as the 2022 Shovel Award Recipient of the year. The Shovel Award is a recognition given annually to a person who is extremely special and has done a phenomenal job of consistently promoting and supporting Father's Club. In 2018, Scott was an instrumental part in the creation of the Fathers's Club by assisting the establishment of our first Chapter at Blue Valley High School.   His leadership in education has been truly exceptional, and Father's Club will be forever indebted to him. Scott has now moved on to become principal at Raytown-Peculiar (Ray-Pec) High School in Missouri.
A Sad Farewell
Finally, we end this year-in-review on an incredibly sad note. On March 21 of this year, our beloved founder and incredible friend, Vince Stephens passed away suddenly at the much-too-young age of sixty. Vince was a humble giant among men and is dearly missed by all. We will continue to surround his wife, Veronica, and his four sons Vince, Jr., Brandon, Justin and Dorian and their families with all of the Father's Club devotion and support we can muster. You are greatly missed, Vince.
We will continue to build on our dad-led efforts into the coming year. We believe it is important to take a look back and celebrate all that has taken place this past year. Although we dream of expanding Father's Club Chapters in places like the Kansas City Northland, Blue Springs, Topeka, Wichita and beyond, we are continually reminded that fathers and fatherhood are a powerful force for good, wherever, and whenever dads make themselves available. Our communities need us, our schools need us, we need one another. But, most importantly, our kids need their fathers to be involved.
We will continue to be driven and fortified by our Core Values: Putting Others First, Personal Excellence, Integrity, Working Together, Accountability, and humbly Lead Courageously. Thanks to everyone who has contributed to our mission this past school year.
https://fathersclub.org/wp-content/uploads/2023/05/You-Matter-Featured.jpg
680
679
Father's Club
https://fathersclub.org/wp-content/uploads/2019/06/FathersClubLogo-v1.jpg
Father's Club
2023-06-15 06:00:05
2023-05-25 19:36:25
Father's Club 2022-2023 Year-in-Review