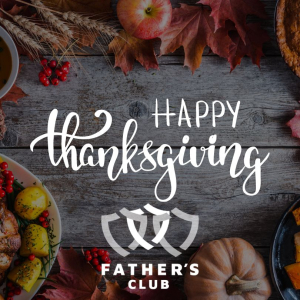 By Mike Rothwell, Board Member/Director of Community Partners for Father's Club
Welcome to the season of tryptophan and pumpkin spice everything. This week, we will over indulge as we surround ourselves with family and friends and give thanks for the important things in life. When it's all over, we will put on our fat pants, watch some football, and take a nap.
For many of us, this is a time of rest, laughter, and being with those we love. For others, this is a painful time as we grieve the loss of a family member or friend who is no longer around the thanksgiving table. Whatever your circumstances this Thanksgiving, please know that you are not alone. You matter.
From all of the Dads at the Father's Club, may you have a safe and peaceful Thanksgiving Holiday this year.
We also want to a moment to look back and express our gratitude for the dads who care enough to make this community thrive. We look back at the pictures of dads showing up and pressing in at their local schools and we simply smile. What a joy and privilege it is to serve alongside so many high-impact men in our community.
We appreciate the hours of service and the dollars contributed to fulfill our mission of creating simple ways for dads to be intentional with their KIDS, with other DADS and within their COMMUNITY. From tailgates, to avid classes, to Fist Bumps 4 Food (FB4F), to cleaning up the school grounds, to halftime hot dog giveaways and beyond, you guys are simply amazing.
We also want to pause in this space to remember our brother and visionary Vince Stephens.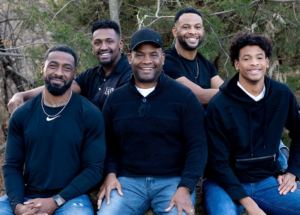 The heart of Vince Stephens lives on in all of us as we pursue intentionality with our kids, each other and our larger community. Vince had a vision of men stepping up and being present. His transparency with relative strangers from day one is still at the heart of why we do what we do.
We are not alone in the battles this life brings. We need each other to pursue excellence and face the challenges we are all so familiar with. Today, we continue to express our thoughts and prayers for Veronica and her family as they grieve the loss of their husband and father during this first Thanksgiving without their beloved.
We hope you have a blessed Thanksgiving Holiday and continue to pursue intentional moments and opportunities throughout the holiday season.
– The Father's Club Board
https://fathersclub.org/wp-content/uploads/2023/10/Happy-Thanksgiving-2023-Featured.jpg
800
1000
Father's Club
https://fathersclub.org/wp-content/uploads/2019/06/FathersClubLogo-v1.jpg
Father's Club
2023-11-23 06:00:30
2023-10-24 10:52:00
Happy Thanksgiving… Bring on the Tryptophan!