The Mitchell Strong Memorial Shovel Award at Blue Valley Southwest
By Todd Milner, Board Member/Director of Campus Development for Father's Club
There's a saying with Father's Club members coined by our CEO, Brad Holdhusen a few years ago. It goes something like this…
"Dads, just grab a shovel. We will tell you where to dig the hole."
Brad Holdhusen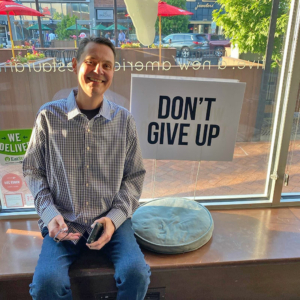 What Brad was trying to communicate in very simple terms that most dads would understand is that we don't want to make your involvement in Father's Club complex or confusing. Just show up, and we'll have it all planned out for you. We just need you to show up!
What the leaders of Father's Club have learned in just three short years around how to get dads to show up, get engaged, and be intentional is that we need to keep it simple. As simple as just grabbing a shovel and digging a hole. As you might imagine, it didn't take long for many of us to latch on to this statement. We repeat it at pretty much every board and chapter meeting. Fast forward to a few months ago… We liked the concept so much that we decided to adopt the words and turn it into an award.
The Shovel Award was designed to recognize and be given out to dads who consistently show up, get engaged and demonstrate how to be intentional with their kids, their families and their community! The first recipient of The Shovel Award was Tom Herzog, board member and one of the founding members. You can read that blog here. Tom shares his thoughts on  receiving the award.
The Mitchell Strong Memorial Shovel Award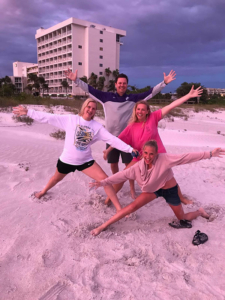 The Blue Valley Southwest (BVSW) Chapter wanted to recognize and honor a special dad by naming the The Shovel Award at BVSW the "Mitchell Strong Memorial Shovel Award"  in honor of Chris Mitchell. Chris, an awesome BVSW dad, exemplified what it means to be an engaged, an intentional and a committed father to his family, his lovely wife Stephanie, his daughters Cara Allie & Kaitlin, their school BVSW and their community.
Chris showed up consistently and quietly, always involved in any activity Father's Club would host at BVSW. Chris was the host of "Late Night with Dads", involved with every Chicken Biscuit event held, proudly walked the halls on Fridays during lunch with other dads taking time out of his day and week to always "show up"!
Sadly, Chris is no longer with us, passing away this past July after facing a long and hard fought battle with pancreatic cancer. Again, to honor Chris and his legacy, we are calling the The Shovel Award at BVSW the "Mitchell Strong Memorial Shovel Award".
Chris's legacy will live on in the halls of BVSW, in the community and in the ranks of dads at Father's Club for generations to come. It cannot be said enough that Chris Mitchell was a perfect example of an engaged, intentional, loving and committed father who always "showed up!" Chris, my friend, your smiling face, caring personality and "show up" attitude will be sorely missed!
I am happy and honored to announce that Charles Dahm will be the first recipient of the Mitchell Strong Memorial Shovel Award at BVSW!
Charles has served on the BVSW Father's Club leadership team since its inception in January of 2019. Charles continues to serve and lead the Father's Club Chapter at BVSW in all the same ways Chris did. Charles has also served on the PTO committee for the last 3 years working hard to connect PTO ideas and needs with the ranks of dads at BVSW!
Congratulations Charles!
I am proud to call you my friend and so grateful for your dedication, intentionality and "show up" attitude! You were the obvious choice for this award and more importantly the dad at BVSW who deserves the recognition and honor!
https://fathersclub.org/wp-content/uploads/2021/11/2021-BVSW-Mitchell-Strong-Shovel-Award-01.jpg
800
800
Father's Club
https://fathersclub.org/wp-content/uploads/2019/06/FathersClubLogo-v1.jpg
Father's Club
2021-12-09 06:00:04
2021-11-29 10:50:20
The Mitchell Strong Memorial Shovel Award at Blue Valley Southwest