The Mission Cup is September 9th – Time to golf with a mission!
By Randy Bratton, Board Member/Director of Campus Growth for Father's Club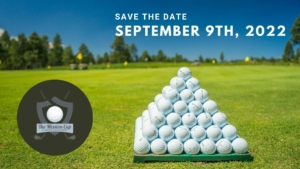 To all of you families with recent graduates, congratulations! Best of luck as they move on to their next adventures! As the summer craziness begins, Father's Club is already looking ahead to September 9th and the 13th Annual Mission Cup golf tournament. As we continue to expand, the Mission Cup is also growing. This year's tournament will be on TWO courses on the same day, with about 200 golfers.
For the after party this year, we're taking it to the next level… golf on Friday, and then on Saturday night September 10th, we will hold our Mission Cup Party & Auction for players and spouses at the brand new Chicken N Pickle on 135th St in Overland Park!
Supporting the Mission Cup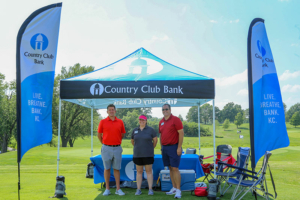 Over the past few years, Mission Cup has been supported with participation and sponsorship from such great Kansas City names as Country Club Bank, JE Dunn, Prime Capital Investment Advisors, Nexus 5 Group, KC Motor Co., Worldwide Express, 810 Radio, Nick and Jake's, Kansas Speedway, The Roasterie, and many more. Father's Club is having an impact, and the KC community is taking notice!
Father's Club is all about strengthening the connection between dads and their kids, between dads and other dads, and ultimately building stronger, safer, and more caring communities. We've heard dozens of personal stories about the impact we've had so far.
So… here comes the big ask.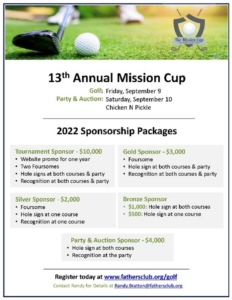 For all you dads reading this right now, will you take a moment to think about companies or individuals who may want to support us this year? Do you work for a company that is charitably-minded and loves to support causes in the KC community?
Our organization has been blessed with a ton of dads who have outstanding professional networks. Are you able to tap some of your connections on behalf of Father's Club? You can see all of our sponsorship levels here.
If your company doesn't want to be a sponsor or play in the Mission Cup, we'd love for them to provide items for our silent auction, raffle, or golfer bags.
On behalf of Father's Club, we'd appreciate any level of participation!
Please reach out at randy.bratton@fathersclub.org or call me at (901) 647-6099 for more info, or to connect me to the right people in your organization.
Thanks in advance for your support, and we'll see you at this year's Mission Cup on September 9th!
https://fathersclub.org/wp-content/uploads/2022/06/Mission-Cup-2022.jpg
1080
1920
Father's Club
https://fathersclub.org/wp-content/uploads/2019/06/FathersClubLogo-v1.jpg
Father's Club
2022-06-06 15:32:32
2022-06-06 15:34:48
The Mission Cup is September 9th – Time to golf with a mission!