The Chris Mitchell Memorial Shovel Award – 2022/2023 School Year
By Todd Milner, Board Member/Director of Campus Development for Father's Club
There's a saying with Father's Club members coined by our CEO, Brad Holdhusen a few years ago. It goes something like this…
"Dads, just grab a shovel. We will tell you where to dig the hole."
Brad Holdhusen
What Brad was trying to communicate in very simple terms that most dads would understand is that we don't want to make your involvement in Father's Club complex or confusing. Just show up, and we'll have it all planned out for you. We just need you to show up!
What the leaders of Father's Club have learned over our five years around how to get dads to show up, get engaged, and be intentional is that we need to keep it simple. As simple as just grabbing a shovel and digging a hole. We liked the concept so much that we decided to adopt the words and turn it into an award.
The Shovel Award was designed to recognize and be given out to dads who consistently show up, get engaged and demonstrate how to be intentional with their kids, their families, and their community!
The Chris Mitchell Memorial Shovel Award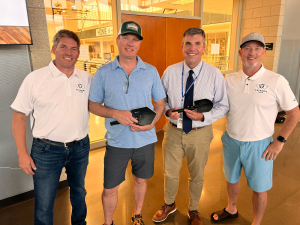 The Blue Valley Southwest (BVSW) Chapter wanted to recognize and honor a special dad by naming the The Shovel Award at BVSW the "Chris Mitchell Memorial Shovel Award" in honor of Chris Mitchell. Chris, an awesome BVSW dad, exemplified what it means to be an engaged, an intentional and a committed father to his family, his lovely wife Stephanie, his daughters Cara Allie & Kaitlin, their school BVSW and their community.
Chris's legacy will live on in the halls of BVSW, in the community and in the ranks of dads at Father's Club for generations to come. It cannot be said enough that Chris Mitchell was a perfect example of an engaged, intentional, loving and committed father who always "showed up!" Chris, my friend, your smiling face, caring personality and "show up" attitude will be sorely missed!
I am happy and honored to announce the recipients of the Chris Mitchell Memorial Shovel Award at BVSW for school year 2022/2023 are Charles Dahm, one of the coolest and hardest working volunteer dads at BVSW, Scott Roberts former principal at BVSW and now Executive Director of School Admin & Tyler Alexander, current principal at BVSW.
https://fathersclub.org/wp-content/uploads/2023/09/BVSW-Shovel-Award-2022-2023.jpg
750
1000
Father's Club
https://fathersclub.org/wp-content/uploads/2019/06/FathersClubLogo-v1.jpg
Father's Club
2023-10-05 06:00:00
2023-09-29 09:33:45
The Chris Mitchell Memorial Shovel Award – 2022/2023 School Year