Soccer Saturdays Bringing Fathers and Sons Together

By Mike Rothwell, Board Member/Director of Community Partners for Father's Club
The Father's Club's mission is so simple. Sometimes it seems foolish that even the small little things matter. Often I wonder how impactful it really is to pass out a Chick Fil A sandwich and a fist bump to students as they enter their school building. Does it really matter to ask another dad to grab coffee and talk about the battles of life and fatherhood? Do our teachers and administrators really think we are making a difference by showing up at school and handing out fruit snacks and engaging in conversation with students?  
The answer is YES! The little moments of intentionality really do matter. It's hard to explain, but when a Dad shows up, impact happens. And that is what we do. We encourage Dads to be intentional and simply show up. First at home, and then in the communities they serve.
In the summer of 2023, the Father's Club locked arms with F3 Kansas City. (One of our four key community resources.) We decided to try out a new concept called Soccer Saturdays. It was simple.  Just the way we like it.
Soccer Saturdays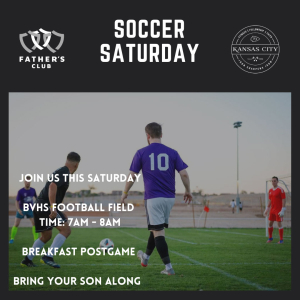 One Saturday a month, Dads from the KC Metro were invited to play soccer. Dads just showed up and played. Dads invited their sons to join them for some fun. The hardest part was convincing your child to get up at 7am to go play soccer with Dad. To seal the deal for the father-son experience was an amazing breakfast afterwards together at Price Chopper.  Yes, Price Chopper has an amazing, affordable breakfast.
Early on it was just a bunch of men showing up for a good time and some great fellowship. As the summer went on, more and more dads heard about what was happening. More and more young men started to show up alongside their fathers. By the end of the summer, we had 48 dudes playing soccer and held a classic Fathers vs Sons match. To be fair, the fathers snagged a few young adults to assist in making the playing field a bit more fair. We even had moms, fans and the high school band coming out to witness this beautiful game of Dads vs Kids.
As you would expect, the Dads prevailed victorious on a last second goal.  
We are more than encouraged by the strengthened relationships being built amongst fathers and sons in our community. We are so thankful for the leadership our friends at F3 Kansas City provide to make moments like this possible. We encourage all men to come check out Soccer Saturdays. We have several dates on the books for the remainder of the year.
Mark your calendars now and come check it out for yourself!
We look forward to seeing you on the pitch. Right Here.  Right Now.  You Matter.
Soccer Saturday Dates For The Remainder of 2023
When: The following Saturdays from 7am-8am (Breakfast Postgame at Price Chopper)
9/30/23
10/14/23
11/18/23
12/16/23
Where: All the Soccer Saturday games are at the Blue Valley High School football field.
Directions: Google Maps
We hope to see you there!
https://fathersclub.org/wp-content/uploads/2023/09/F3-Soccer-Saturdays-02fullsize.jpg
653
1000
Father's Club
https://fathersclub.org/wp-content/uploads/2019/06/FathersClubLogo-v1.jpg
Father's Club
2023-09-28 06:00:04
2023-09-27 18:53:48
Soccer Saturdays Bringing Fathers and Sons Together