Olathe Region – Back to School Update
By Mike Davisson, Regional Director & Board Member for Father's Club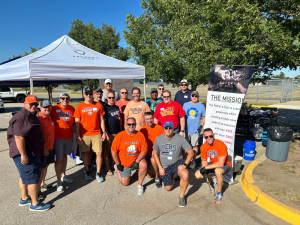 WHEW! Back to school provides a lot of energy, excitement and activity as it relates to Father's Club and how we engage with kids, dads and the community. All the preparation and planning throughout the summer begins to take shape as we welcome kids back to school and let them know they matter — right here and right now.
The start of the school year brings back to school nights, Fist Bump Fridays, tailgates, food handouts, community events, and recruiting and information events. But that's not all. We've also had a few dad gatherings for coffee and a few happy hours across the six high school and four middle school chapters throughout Olathe.
None of this is possible without the outstanding partnership of the school and district administration in conjunction with our chapter chairs leadership and the dads involved at each school. However, it was a little embarrassing when I visited the tailgate of our newly launched chapter of Mission Trail Middle School only to find out that I only knew 25 letters of the alphabet. I didn't know Y. 😊 (Dad jokes are highly encouraged, by the way.)

I've been asked what Father's Club does.
Let me try to answer that by providing a snapshot of what has occurred in the first 60 days of the 2023-2024 school year:
13 back to school/recruiting events/information nights
5 football tailgates
12 dad social gatherings
11 Fist Bump Fridays and drop-off line fist bumps
More than 10,000 student interactions
Additionally, we've hosted a senior cookout at Olathe South, had a bonfire and cookout at Olathe East for homecoming week, partnered with school counselors to support Suicide Prevention Week by handing out 988 stickers, and worked on clearing brush and creating a new community disc golf course at Mission Trail Middle School. These are only the activities that I am aware of and am likely missing many others.
Get involved. You will be glad that you did.
If you haven't signed up to learn more about Father's Club or what is happening with your individual schools, what are you waiting for? Visit fathersclub.org/join and sign up. I haven't met a dad that wasn't positively impacted by their involvement at any level. Additionally, I have yet to meet a dad that wished he spent more time at work or regretted spending time with his children.
Remember, you do not have to have a dad bod to be a Father Figure. 😊 (Had to end with one more dad joke.)

https://fathersclub.org/wp-content/uploads/2023/10/WEB-OEHS-Tailgate.jpg
600
800
Father's Club
https://fathersclub.org/wp-content/uploads/2019/06/FathersClubLogo-v1.jpg
Father's Club
2023-10-12 06:00:07
2023-10-10 13:29:57
Olathe Region – Back to School Update