Fitness, Fellowship and Faith – Why F3?
Written by Bob Bennish – BVSW
A few years ago, my family and I moved to Kansas City from the Chicago area. We were new to town and didn't really have any friends or connections. My buddies back home in Chicago were giving me total grief about checking out F3. I had no interest in getting up at 5:30am to workout with a bunch of strangers. I was in horrible shape and it was the last thing I wanted to do. I was comfortable just going to work, making a good living, keeping my kids safe, making sure they had a good education, and enjoying my wife and our time together. No need for anything else.
Then my crazy friends came to KC for a visit.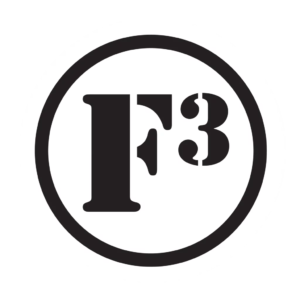 What do you know? They forced me out of the house one Saturday morning to attend an F3 workout. Of course the night they arrived we had a bit of fun on the back patio, and enjoyed the conversation late into the evening. When that alarm went off the next morning, I was in no shape to work out. These dudes dragged me out of bed and into the morning gloom with absolute strangers from KC.
The workout was horrible. I was in no condition to be there. But something was different. The guys there that morning were so welcoming and made me feel at home. Even though I was out of shape and not feeling 100%, I never felt I didn't belong there. The encouragement was amazing. I met some really cool guys, we had coffee afterwards to connect even more and I felt a need to come back for more.
Two years have gone by and I can honestly say that my health is vastly different.
But more importantly, the relationships are what it is all about. I get to see my buddies several times a week. We challenge each other to be a little bit better each day. I've seen absolute acceleration in my leadership abilities at home, work and within the community. My fitness may be better, but my relationships are stronger and deeper than ever before.
I encourage you all to come check out F3 here in Kansas City. Many of you already have. I'm a Dad just like you. My kids go to BVSW and Aubrey Bend here in the Blue Valley School District. We are part of this community now because of my engagement three or five times a week at F3. I look forward to seeing you in the gloom some morning real soon.
Bob Bennish
BVSW Dad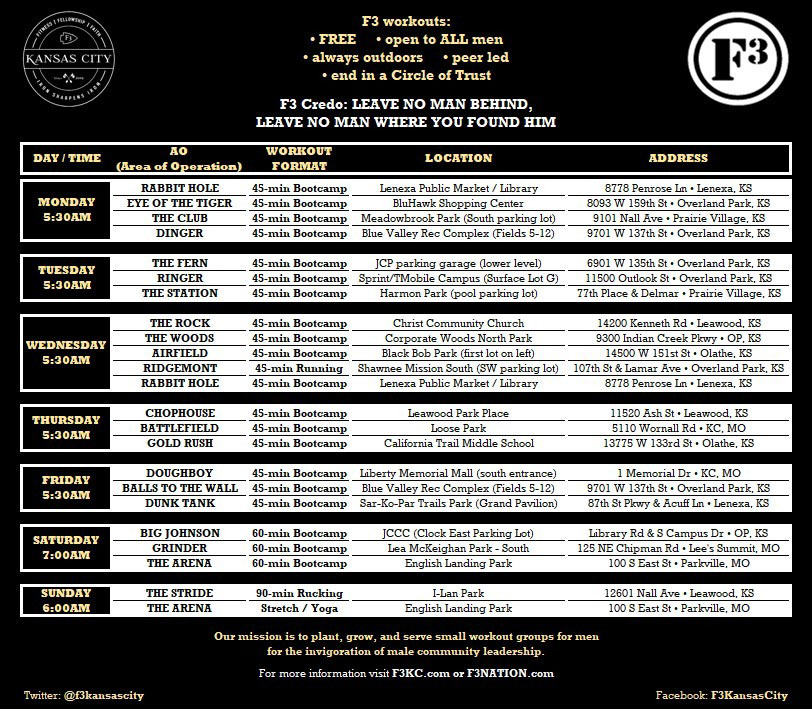 MORE ABOUT F3
F3 is a national network including 2,921 free, peer-led workouts for men in 212 regions. Our mission is to plant, grow and serve small workout groups for men for the invigoration of male community leadership.
WHEN DID F3 START?
F3 started in 2011 in Charlotte, North Carolina. F3 has grown to more than 30 states and 2,000+ scheduled workouts a week through the volunteer efforts of men whose lives have been changed by their involvement with the group.
WHAT DOES F3 STAND FOR?
The three Fs in our name stand for Fitness, Fellowship and Faith — the last of which we define as not one specific religion or faith system, but simply a belief in something outside oneself.
F3 HAS NO RULES JUST 5 CORE PRINCIPLES
1) Free of Charge – Never a charge to workout, ever
2) Open to all Men – No matter the man, you are welcome here.
3) Held Outdoors – Rain or Shine, Heat or Chill, we are out there.
4) Peer Led – Rotating fashion of men leading each other.
5) Ends with COT – Always ends with a Circle of Trust
F3 BATTLE CRY
"Leave no man behind, but leave no man where you find him."
COME CHECK OUT F3
We welcome men of all fitness levels to our workouts and have no requirement for membership other than that you show up at the appointed time and place and follow what the workout leader (the "Q" in F3 lingo) does.
https://fathersclub.org/wp-content/uploads/2021/10/F3-Group-Pic-web.jpg
600
800
Father's Club
https://fathersclub.org/wp-content/uploads/2019/06/FathersClubLogo-v1.jpg
Father's Club
2021-10-07 06:00:26
2021-10-07 10:27:20
Fitness, Fellowship and Faith – Why F3?