Father's Club Spotlight on Zach Pederson
By Brad Holdhusen, CEO/Board Member/Chapter Chair for Father's Club
It was a freezing cold day on January 19, 2020. I was meandering through the aroma of good barbeque at the AFC Championship pre-game tailgate atmosphere out at Arrowhead when my ears locked into some good red dirt music. As I moved closer, I recognized Reckless Kelly blasting at this Taj Mahal-like tailgate hosted by the guys from Hooray Grills. Like a moth to a flame, I approached with wide eyes and a grin on my face…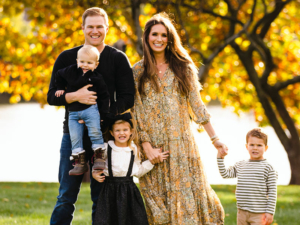 It was that day that not only did I witness our Kansas City Chiefs WIN the AFC Championship over the Titans, but I had the opportunity to meet my now good friend, Zach Pederson, for the first time.
Don't know Zach?  You need to… Let me give you just a glimpse as to why I chose to do a blog spotlight on this dude.
Soon after that January day in 2020 when Zach and I first met, I had the opportunity to share my passion behind The Father's Club with him over beers at Tanners. Zach was all in – he loved it! Since that day, Zach, Owner of Rock Road Creative, has (for next to nothing) shared his company and his talents with The Father's Club. This VIDEO is just one example of him sharing his time and talent with our organization as he helped spotlight The Father's Club at our annual Mission Cup golf tournament that we host every year in late August. Additionally, Zach and his dad generously donated a duck hunt for our 2021 Mission Cup silent auction last year as they agreed to host a dad and his son or daughter out at their waterfowl property this month.
Beyond running Rock Road Creative, Zach has had his hands in many things over the years as he's amassed a great network of respected business and community leaders. Zach calls Overland Park home where he lives with his wife Megan and their 3 kids, Penelope (age 5), Hank (age 4) and Ford (age 2).
Zach, Thanks for your partnership with The Father's Club. We look forward to many more years of intentional engagement as your family's roots grow deeper in this community. We're grateful to have you as a part of it!
Business Owners: Looking for a great video, photo, website development, social media agency? Reach out to Zach and his team here:
Zach Pederson, Owner
Rock Road Creative
zach@rockroadcreative.com
(913) 915-6137
www.rockroadcreative.com
The 2020 Mission Cup Video Zach Helped Us With
https://fathersclub.org/wp-content/uploads/2022/01/ZP_FamilyPhotos_2021-17-800x600-1.jpg
600
800
Father's Club
https://fathersclub.org/wp-content/uploads/2019/06/FathersClubLogo-v1.jpg
Father's Club
2022-01-13 06:00:39
2022-01-10 10:14:10
Father's Club Spotlight on Zach Pederson