Father's Club Scholarships at Blue Valley West Highlight Mental Health Perseverance
By Clay Norkey and Kevin Saylan, Chair and Vice-Chair, Blue Valley West Father's Club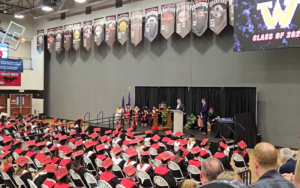 The Blue Valley West Father's Club launches hot dogs into the student section at football games. We've thrown T-shirts into the crowd at student assemblies, and  at Class Day 2023, we gave away $2,500 in cold, hard cash!
The BV West Chapter developed a scholarship program last school year for the first time in Father's Club history. We handed out five scholarships based on essays our applicants wrote on mental health. They were humbling, and they were inspiring.
Our students shared stories of endurance, persevering through mental-health struggles, and coping through the aftermath of suicide. They wrote about bullying, social-media depression, and anxiety. We read about the mental-health struggles faced by first-generation immigrants, and we were touched by heartfelt accounts of learning to live with diagnoses like obsessive-compulsive disorder.
The most inspiring essays were the accounts of how students turned battles into victories, overcame adversity and were better for it, took lessons learned and shared then with their peers, and felt the need to give back.
Our young people have a deep desire to help others:
From a student who plans to be an athletic coach:
I know from my experiences in sports and life that battles aren't solely physical, but equally mental. I want to be there for my players as [certain adults] were for me, to guide and help them with their struggles. My dream is to be an advocate for teens and help them learn [that] it's okay to talk about difficulties in life and to seek help.
From a senior who was in crisis:
Because of the huge stigma that surrounds mental health, it took me a very long time to reach out to anyone about how I was feeling. I felt desperate, hopeless, and weak. But I have found that people are much more willing to help you than you think they are.
Those connections also serve as a lifeboat. I hope that the people I try to help choose to provide support to others, which creates a ripple effect that will work to tear down the stigma around mental health.
What is going to help break it down is not one big act, but rather many small acts and meaningful connections. Little by little, we will all work together to help each other through our seemingly insurmountable issues.
From a student describing the mental-health struggles of a first-generation American family: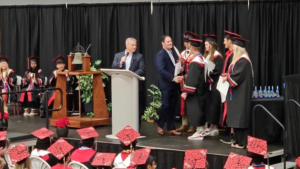 The culture from which my parents were raised in demanded consistent perfection; mental health was disregarded, and struggles regarding the matter were pathologized. I'm proud to say I was able to contribute to [my mom] un-learning the harshness of this culture, and accepting one where it's [okay] to struggle and seek help. I'm proud to tell this story and to have told this story to hundreds of people, in hope of de-stigmatizing mental health for those who grew up in orthodox cultures that disregarded the realness of mental health.
From a senior who reminds us that the tragedy of suicide affects countless others:
My first real experience with mental health and the long-term effects of it became very clear to me when my friend… committed suicide. It was very traumatic. I was unaware of how deeply affected he was. I knew he had struggled with depression for many years from being bullied, but I don't think I understood how much it affected him.
It was during that time that we were made aware that a family member was struggling with depression and anxiety and had contemplated suicide. None of us knew how badly they struggled.
Knowing what I know now, I try to make a conscious effort every day to be a good friend and to reach out to people who might be struggling. I hope to someday share my passions with others and give kids a place to feel safe and express themselves.
And from a student who, through overcoming their own challenges, feels the need to give back:
A lot of people think that depression is just a period of being sad, but the feeling of being depressed is actually the feeling of being empty and hopeless.
I was kicked out of my friend group that I had been a part of for almost 10 years. I was bullied. I was shunned, made fun of, and posted on social media [in a bad way].
The staff at West and my family were all very supportive and I was lucky enough to come across two kind girls who asked me out to dinner one night. These are now my two best friends.
Mental health has had a huge impact on my life because it has shown me that I can overcome all kinds of things in life. And dealing with depression has helped me have empathy. I enjoy listening to people and having the ability to help people when I can. I am wanting to pursue a degree in secondary math education and counseling, because of all the experiences I have gone through during high school.
Five Scholarship Winners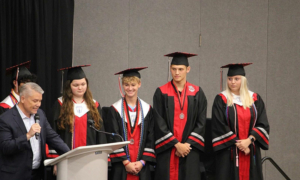 Our five scholarship winners are certainly advocates and allies in their own unique ways. Their willingness to share their stories with us will help many others. They have helped fulfill the program's two-pronged purpose. First, they have helped others, increased awareness of mental-health issues and resources, and helped reduce stigmas associated with mental-health issues. Second, we are providing educational financial assistance and recognition to students who have shared their personal stories and demonstrated a commitment and a future desire to help improve mental-health issues in their community.
This program fits squarely within the Father's Club mission.
Congratulations again to our two honorable-mention award recipients ($250), Lillie Large and Ty Brechler; our Runners Up ($500), Sai Pradhan and Amanda Acheson; and our Father's Club Top Scholarship winner ($1,000), Cooper Marquette. Although the scholarship may also be used for vocational or technical schools or programs, apprenticeship expenses, or other programs, all five will be attending universities across the country: Ole Miss, University of Arkansas, University of Pennsylvania, University of Nebraska—Lincoln, and K-State. We thank them for sharing their stories and encourage them to keep making a difference in the lives of others.
For more information about the scholarship program, please contact Clay Norkey, Chairman of the Blue Valley West Father's Club, at clay.norkey@fathersclub.org.
https://fathersclub.org/wp-content/uploads/2023/07/FD-Scholarship-Presentation-Pic-3-2023-05-19web.jpg
500
800
Father's Club
https://fathersclub.org/wp-content/uploads/2019/06/FathersClubLogo-v1.jpg
Father's Club
2023-07-13 06:00:23
2023-07-02 08:23:29
Father's Club Scholarships at Blue Valley West Highlight Mental Health Perseverance