Father's Club Receives 2023 Blue Valley "Friends of Education" Recognition
By Dan Holdhusen, Grandfather of two graduates and two currently enrolled in Blue Valley High School
The Father's Club recently received the coveted 2023 Blue Valley Schools "Friends of Education" award. The Friends of Education designation is a 20-year program that recognizes "individuals and organizations in the community who have made outstanding contributions to public education."
The official recognition of the Father's Club took place at the Blue Valley district's April 10, 2023, school Board meeting. Those attending the award ceremony and recognition are shown below: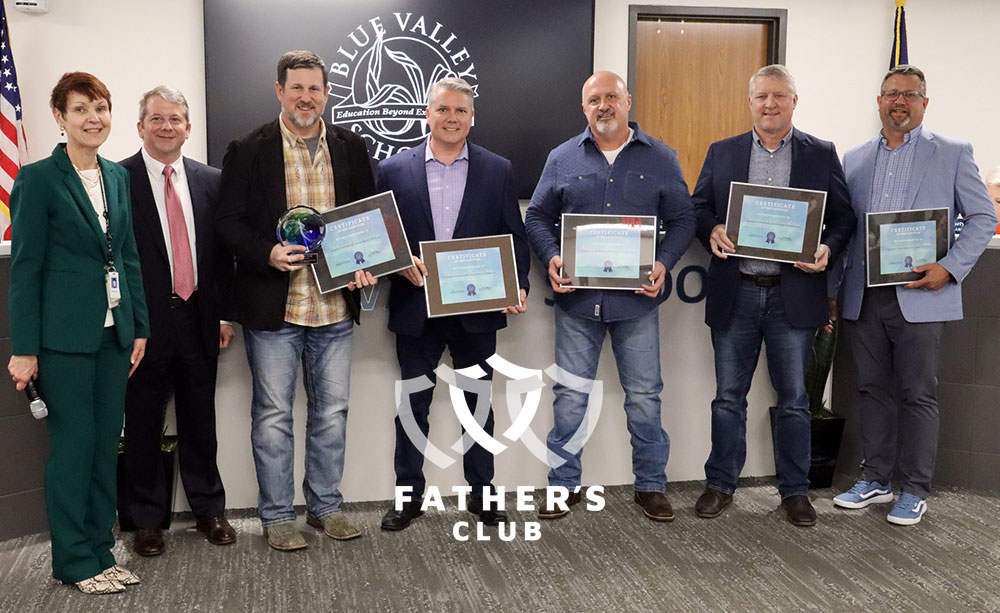 From left to right: Dr. Tonya Merrigan, Superintendent of Blue Valley School District; Patrick Hurley, President of BV Board of Education; Brad Holdhusen, Father's Club President; Clay Norkey, BV West 1st Chapter Chair; Todd Milner, BV Southwest 1st Chapter Chair; Randy Bratton, FC Dir. Of Growth (standing in for Chris Merkel, BV Northwest 1st Chapter Chair); and Doug McIntyre, BV North 1st Chapter Chair
The Blue Valley district also produced a short video honoring and recognizing the Father's Club organization. Highlighted in the video are two high school leaders: Dr. Katie Bonnema, principal at Blue Valley West, and Dr. Tyler Alexander, principal at Blue Valley Southwest.
Drs. Bonnema and Alexander praised the Father's Club, its mission, and its proactive involvement in the lives of students and teachers in their schools. Dr. Bonnema added that "… (FC members) are choosing to volunteer their time in our community and in our schools to serve a message of connectivity, connection, positivity and support and they couldn't be more deserving."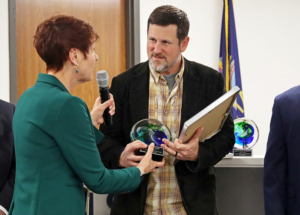 Brad Holdhusen, speaking on behalf of the entire Father's Club organization across the metro area and, in particular, the group representing the Blue Valley school district said:
"We cannot be prouder and more pleased at being recognized for this prestigious award from the Blue Valley district. Father's Club is not seeking achievement awards. But this recognition is accepted with a deep sense of pride and humility on behalf of the hundreds of dads who put the welfare and education of our kids first."
https://fathersclub.org/wp-content/uploads/2023/05/2023-Friends-of-Education-Award-05-Featured.jpg
613
1000
Father's Club
https://fathersclub.org/wp-content/uploads/2019/06/FathersClubLogo-v1.jpg
Father's Club
2023-06-08 06:00:25
2023-05-25 13:04:50
Father's Club Receives 2023 Blue Valley "Friends of Education" Recognition