Olathe East Father's Club – Everyone Wants to be a Hero

By Ryan Kapple, Chapter Chair at Olathe East
Everyone wants to be a hero. Then reality sets in and you realize you're just a dad wearing khakis and a polo on Zoom meetings all day.
Not on this day!
We had 20 Dad HEROES show up at Olathe East (OE) to hand out 800 chicken biscuits. It was a cold, rainy and dark day, but each dad became a hero and brightened the day of hundreds of students at OE. To capture this great moment, we asked Coach Eric Harrington, head of the OE Video Class to shoot and edit a video.
Check out his awesome video.
What is the Impact?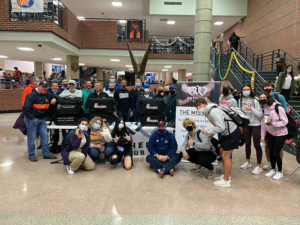 We can't be certain of the real impact that the presence of the Father's Club had at Olathe East. But for multiple days, there had been fights breaking out… but not on that day. I'd like to think starting the day off with dads showing up and sharing some love in the form of a chicken biscuit, a dad joke and a smile, let kids know that life is, in the words of Larry David from Curb Your Enthusiasm, "Prettay, Prettay, Prettay Good."
Dads went to First Watch after the event and there was a buzz around the table. We all felt like we had helped to make a difference in the lives of students at OE, and together, we were encouraging each other to be the best version of our "Dad-self."
https://fathersclub.org/wp-content/uploads/2021/11/2021-Olathe-East-CandB-01.jpg
600
800
Father's Club
https://fathersclub.org/wp-content/uploads/2019/06/FathersClubLogo-v1.jpg
Father's Club
2021-12-02 06:00:52
2021-11-29 10:05:42
Olathe East Father's Club – Everyone Wants to be a Hero