Father's Club and Blue Valley West Football Concessions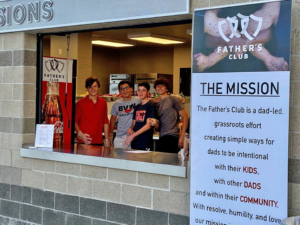 By Clay Norkey, Blue Valley West Chapter Chair for Father's Club
Popcorn, pizza, nachos, Chick-Fil-A, and a brand-new, on-campus stadium! This fall, Blue Valley West officially took over all concessions for home football games, and in the process grew its membership and raised serious funds.
The Jaguar Dads run the whole show –– menu, purchasing, staffing, and retaining all profits.
With a strong core group and generous one- and two-time volunteers, these dads turned regular concessions into a fun and energetic hub of activity. Students show up every game and get hooked! And whether it's Skittles or hot chocolate, the fans love the positive attitude, dad jokes, access to great drinks and snacks.
Along the way, West's chapter has partnered with DECA to help track inventory; the BVW Marching Band, providing snacks and drinks after their halftime show; the dance team and the cross-country team, who both provided visitor-side staffing; the PTO, to partner on mental-health focused grants; and the official, providing snacks and PowerAdes. Plus, the group built even stronger relationships with the school's new Athletic Director (Kevin Simmerman) and new Principal (Katie Bonnema).
Concessions paid for AP Testing and a Sources of Strength podcast!
At the end of the season, which involved five and a half games (four regular home games, one visitor-side concessions for a BV Southwest home game upon their PTO's request, and one state playoff game), the BVW chapter will have well over $10,000 in the bank. And it has big plans! It has already paid for the AP testing for low-income students and agreed to cover the cost of a Sources of Strength podcast. Next, BVW Father's Club will finance grants for mental-health initiatives, fund our Dads in the Morning fist-bump giveaways, and pour it all back into the students and school.
The chapter is led by Clay Norkey and co-chaired by Erik Edwards. Kevin Saylan and Tony Roman helped lead the concessions effort. And dozens of dads slung hot dogs, sweets, and Coke products for the kids.
For more information about the Blue Valley West Father's Club, please contact Clay at clay.norkey@fathersclub.org for more information.
https://fathersclub.org/wp-content/uploads/2021/11/2021-BVW-Concession-Stand-03.jpg
720
960
Father's Club
https://fathersclub.org/wp-content/uploads/2019/06/FathersClubLogo-v1.jpg
Father's Club
2021-11-18 06:00:58
2021-11-09 06:28:43
Father's Club and Blue Valley West Football Concessions