Father's Club Supports the Blue Valley Tigers Band (2021 Champions!)
By Brad Holdhusen, CEO/Board Member/Chapter Chair for Father's Club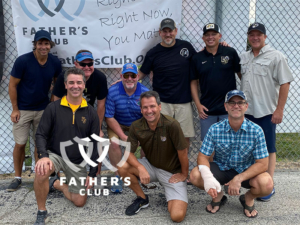 It's 3rd and goal from the 6 yard line… here's the snap… and the Blue Valley Tigers punch the ball into the endzone! But wait, there's NO celebratory school fight song from the band? NOTHING for the crowd to clap in sync with? NADA for the cheerleaders to dance a routine to?
Can you imagine a Friday night football game without the band providing the heartbeat of the environment? We can't either. Which is exactly why the Blue Valley Tiger Father's Club decided to honor the hardest working group of kids in the entire school… HANDS DOWN!
BV Pre-Game Tailgate!
On October 1, 2021, the Blue Valley Tiger Father's Club put together a pre-game tailgate exclusive for band members and their families. It was a night to remember as well over 200 kids and parents partook in some of the best jambalaya (compliments Judd Bearb) Johnson County has ever tasted, complemented by grilled hot dogs, cookies and many other goodies.
Cornhole was played, pictures were snapped and smiles were abundant – ALL in honor of an extremely HARD WORKING group of kids we affectionately call the Blue Valley Tiger Band under the direction of Mr. Paul Bessetti.
To memorialize this band and this evening, the Blue Valley Tiger Father's Club presented the band with a brand new banner that they can now proudly display at competitions and carry in parades for years to come.
2021 State Champions
Oh yeah… by the way… they just WON THE KANSAS STATE MARCHING BAND COMPETITION on Oct 30th! Congrats Blue Valley Tiger Band! You are loved and You Matter, Right Here, Right Now!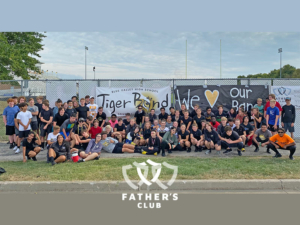 https://fathersclub.org/wp-content/uploads/2021/11/Fathers-Club_BVTiger-BandSupport-08logo.jpg
600
800
Father's Club
https://fathersclub.org/wp-content/uploads/2019/06/FathersClubLogo-v1.jpg
Father's Club
2021-11-11 06:00:28
2021-11-07 14:45:59
Father's Club Supports the Blue Valley Tigers Band (2021 Champions!)